While preparing a for a class on migrants as a contemporary issue in mission for second year students at our seminary my interest in the plight of migrant women gathered more interest.
I was very much aware of the fact that our migrant sisters are under great pressure but some incidents in my own country against migrants just added to the pain.
It is said that more that 244 million people live outside their country of birth. Many of them have moved for a variety of reasons in which they look for protection, peace and new opportunities. In South Africa, according to statistics, there are over 2.5-5million migrants.
In the past few years a wave of xenophobic attacks on other Africans living and working here took place.
Xenophobia is described as a perception that migrants are committing acts of crime and stealing jobs from locals. There is also the view that they are better off than locals as they gain their wealth through illegal means. It can thus be seen as attitudes, prejudices and behavior that reject persons based on the perception that they are outsiders. There is also a close link between racism and xenophobia.
The xenophobia attacks were very violent and destructive. This is very painful as many of them left their home countries to escape conflict and therefore they are so astonished and distressed at what is happening to them. They lose everything they have worked for. They are forced into temporary shelters and crowded tents living on food from church and other organizations.
"Women migrants are more likely to be disadvantaged by the migration experience that their male counterparts. While South Africa is an increasingly popular destination for migrants in numeric terms, it is often an intimidating and unstable destination where women migrants suffer violence, overt hostility and social exclusion, as well as economic exploitation." (South African Institute of International Affairs)
Migrant women are very defenseless and at risk. They suffer immensely when settling in another country facing a total new environment, different language, culture and faith. Many of the women migrate independently but most of them migrate to be united with the family and for marriage reasons. This means that their residency in the new country is dependent on their partner.
A sister who came from Ghana told me that her husband who is in South Africa has another partner and family here..how sad and painful. There are many, many such cases.
Women are then humiliated and further abused. Many women have no or little recourse as they face insurmountable barriers when reporting violence or accessing assistance in such situations. There is often a lack of language skills and the fear that without proper papers they may lose their status or be deported. These are surely unbearable and stressful situations for migrant women. The intense loneliness becomes an endless path of surviving and protecting especially the girl child from human trafficking and sexual abuse. It saddens one to think that our sisters are treated in this manner in one's own country.
The behavior towards migrants, especially migrant women, is denying people their basic human rights. Nelson Mandela said: "To deny people their human rights is to challenge their very humanity" .
Every person is inherently entitled to be treated with fundamental moral principles and norms. Xenophobia is the fear or the dislike of that which is unknown from one, like the foreigner. The fear of another human being is unbiblical and unacceptable.
It must however be mentioned that many faith based organizations and civil organizations are reaching out to assist in ensuring that victims of xenophobia attacks are re-integrated into their homes that they were forced to abandon. They ensure that their children return to school and assist to provide in the necessities for their livelihood.
Through pastoral counseling the traumatized are helped to come to terms with their fears and anxieties.
Have you ever met or spoken to a migrant women in your area?
Lev.19:33, 34-36a challenges us with the following words:
"When an alien (stranger) resides with you in your land you shall not oppress the alien (stranger).
You must love the stranger as yourself and treat him/her as a citizen among you"
Continue to pray and work for the rights of the migrant women around the world.
Jesus has many faces….He is the stranger, the migrant woman, the hungry child, the abused woman, the young girl traumatized by rape or brutally murdered, He is the woman on the street or alone at home, He is the drug addict, the unemployed…………. Jesus is you and Jesus is me, continually inviting us to love the stranger in our midst, to love the unloved.
Angelene
Member, Advisory Board
South Africa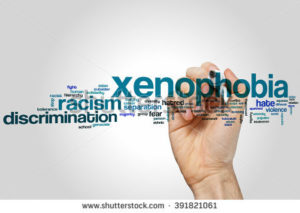 (image from shutterstock.com)